Could we not just let the salvage people do their job and have bodies reunited with families before we have these gruesome headlines? I think we all know there's going to be bodies in the plane.
Pleased they found it and family can have some kind of closure . Horrid situation.
It was always going to be a sad ending if both had entered the water in the cold, rough conditions at the time. Survival would have been almost impossible with the temperature of the water at this time of year. The first vessel sent to find them would not have had the same equipment to the one that has found wreckage on the sea bed. Very much hoping that both pilot and passenger are found so their family may have closure.
Were we secretly hoping he had a parachute?
God love him and the pilot. Awful thing to happen.
This really shouldn't be reported on so soon. Give the families some respect!!
BBC really should have waited for responsible authorities to confirm who's body it is before making it a headline.
I know it's a sad ending but at least the families can have some sort of peace now. They can have funerals instead of never having a body to bury. My condolences to the families.
It's just said on Sky News in Gurnsey that this morning they have now confirmed they are both dead. This is terrible,so thinking of both families,relatives,friends,
colleagues etc
R.I.P to both Atleast their families can take them home.
They gave up so quickly but when they resumed the search they found the wreckage and a body that quickly. That's pretty awful for the family tbh.
This is so very sad. The pilot is from Crowle where I live, and although I didn't know him personally, we are all thinking of his poor family at this very sad time.
At least now the family can get some closure xx.
So sad🙆 may his soul rest in peace.
Tragic
the family can now bury their boy in peace.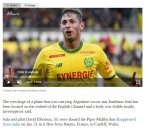 Terrible news , thoughts go out to both families at least they now know and can grieve in peace.
Hey reporters be a bit more sensitive please this is all about human beings, a son, a brother and someone's friend they've just lost in horrible circumstances.
Im hoping the families have been informed before seeing this!!
Usual with media no respect.
Thoughts are with both families at such a heart breaking time.
Should have flown commercial airline instead of small private plane.
My thoughts are with both families, so sad.
So very sorry for the families and there friends such a horrible tragedy but at least it was found and will let the families grieve for them to never find them I can't Imagine how that would feel may they R I.P.
I do hope the families have been informed before it became 'Breaking News' to the world.
Heartbreaking for both families.
Bereaved families, take courage.
Best news from a very sad outcome. His parents can now have him home. With no body they would have been in a living hell for eternity.
Glad they have found the plane. At least the family can start to grieve now.
Aw that's so sad rest in peace xx.
If it wasnt for a footballer i doubt many would care if the bodies or aircraft were found.
Did you show so much care when flight mh370 vanished with 227 passengers and 12 crew on board. No.
As professor Snape said"Life is always unfair".