As a member of the Comment Reading Association (CRA), I'm only here to read comments. Please keep the comments short and simple. We do appreciate your typing effort. Also please watch your spelling. Thank you and have a great day!
I love the quote from the Navy about why it was abandoned: "There must be a reason." They've got a genuine Captain Obvious.
I'm from the Comment Reader Association Panel.
I'll stop there..
Sascha McLeod it's not you're it is your.
Beth Hopkins its you are.
Sasha McLeod, Beth Hopkings and Less Commons - CRA member Dan Dunning's 3rd and 4th sentences are correct with "your"and his 5th sentence is correct with "you".
😇 Member of GP.
As a country director of CRA(southeast Asia jone) my opponion is focus on the content and ignore grammer or spelling mistakes.
Anyone lost a ship
🚢? Please share and use the power of Facebook to reunite it with its owner!
Last seen in 2009?!? How would you hide a ship like that? In the back yard?
Where r the four penguins.
I hate to be sensible but salvage and or berthing costs for a vessel of that size may have made it more cost effective to just set it adrift after it's last cargo. Another poster is right, there are hundreds of these boats of all sizes floating around out there. If we're lucky, they sink and create new reefs. Unlucky, they run aground and spill fuel. Really unlucky, they crash into another ship and take them both out.
I'll offer them £2.50 to take it off their hands. Start of my shipping empire. How hard could it be?
I wonder what was the last recorded cargo on board the ship? Some country must have the last inventory!
I knew my ship would finally come in.
Prepare for new horror movie...I guess it will be more exciting...the Ghost ship or the abandoned ship.
Gosh that's where it got to, don't worry , eBay it for me and put the cash in pay pal sorry for the inconvenience.
The world got smaller only in our minds there are still a great many mysteries out there, one day the malaysian plane lost over the ocean will probably be found with no passengers.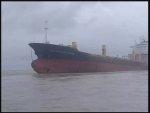 "The ship's location was last recorded off the coast of Taiwan in 2009, and this is the first reported instance of an abandoned ship appearing in Myanmar's waters, according to the AFP news agency."
Crazy story
😦
The next evening, a dapper-looking gentleman with a heavy Eastern European accent hits the town in Nay Pyi Taw, looking for a good place to not drink... wine.
I thing the secret owner is ferrying the rohingyas to an undisclosed place. BBC knows about the origin of a small vial of gas at Salisbury or a chlorine cylinder in idlib must know it's origin also.
It could be the ship that one used in Triangle horror movie! At last ship could able to come out of disturbing time loop!!
Maybe used for illegal purposes like drug smuggling or human trafficking. They may have been worried about the law, or their competitors catching up with them, so they abandoned this ship as fast as they could and disappeared and are using another ship, or some other means of transportation.
Is it normal to spend so much time and money on these ships, just to throw them away in less than ten years?
Probably the country Teresa May is visiting, secretly sending her back after that awful dancing she did!
It was probably crammed full of people before they found it.
Intriguing, but creepy.
Thats a cool pic, it would be great to see a ship permanently like that on display so people can see what it looks like below the water line.
My name is Steven Nathan of Cash Management at THOR Construction Company. We are sending this to all kind of resume, it's a new position offered and a work at home payroll Job.
This blows my mind with all the technology (AIS, rosepoint etc) on a ship that it can just go missing...... that's a lot of steel to just go unaccounted for for that long.
I don't get it. Surely those ships must cost many millions to build. Why would you just leave it?
Was Jack Sparrow on board?
"there must be a reason"
Thanks captain obvious.
Brexit, Isis or Trump....
It is not the only vessel appearing and disappearing on the ocean.
Ahhh finally my ASOS order has arrived
🙄 better late than never.
This thing been missing since 2009 when it disappeared in the Pacific and now it shows up over 1000 miles away 9 years later? I would drop napalm and white phosphorous all over that thing. Its the only way to be sure.
that's a huge ghost.
Sounds like the beginning of Bram Stoker's Dracula.
Do you call it Ghost as "There were no sailors or goods on the vessel," ? think what you will call Trump brain where nothing there inside just like Host brain.
very strange these abandoned ships.
Flying Dutchman !!!