God is great, sad that others perished.
HE KILLED EVERYONE BUT THE BOY.
That was their time.
Is he great for killing 8 people and saving one boy ?
If I could get away with sleeping on the job as much as God, life would be worth living.
Indeed God is great for saving the boy. God work in mysterious ways.
People dont understand,but compare to billions of people that still alive today ,eating ,breathing with nice air,owning material things,job etc but still angry at God ,and dont have any satisfactions in life,always negative in others people life etc..All of us will going to die soon its just diffrent time and season..Accept it or not ,we are temporary here on this world..but for those who believed in GOD theres a HOPE.
That's true. As long as you have everything on a platter, that you are breathing fine there's no god. But be in a plane which is about to crash I bet many atheists would exclaim "my God". Some will even start a prayer.
Photos from the scene show the boy conscious and looking at the camera.
Is this a game of where's wally cos I don't see him.
Taken to hospital already.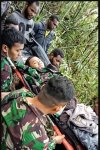 God is great.
God bless.
Religitards saying "god is great". *face palm*.
God is indeed great.
you quoted me out of the context! Am sorry.
The south Asia climate is not good for flying machines. So, It better to walk.
Praying that he will be OK
Things like these seeing so many dead bodies may distract the mind
My condolence to the love ones of those who lost their lives.
The Boy must have been in the wright spot to survive.